Shelter Emergency Alerts!
Every shelter can expect to experience emergencies in which they desperately need more support than at any other time. This section is for you! Do you need a boost? Some extra help?  Tell us about it here and we will post it for you right away!
Ferrets dook never asks for anything for ourselves! If we ask for help, we give the contact information of the Shelter in need. That is why we exist – to help support the Earth-bound Angels who run Ferret Shelters!
Ferret shelters struggle to survive. Please keep up with ongoing needs and help where you can. Sometimes, all we are able to do at the moment is share the need with friends and family. Social networks can be a tremendous help if only people can be shown that sharing makes a difference.
---
Five Points Ferret Shelter
Five Points Ferret Shelter is fundraising to help cover vet bills that are higher than normal recently.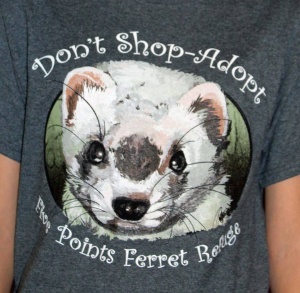 These T-shirts are available and will help the shelter! Please click images to see larger view.
Here is Brenda's (shelter mom) message:
Several people have inquired about the Tshirts Five Points Ferret Refuge is currently selling to help with vet bills for Obie and others. These Tshirts are soft, 100% cotton in sizes S–3XL in the colors shown and are only $20 ($2 extra for 2&3 XL) Shipping is usually under $4 in US. 100% goes to shelter to help the ferrets. If you want one (or 2 or 3) just say "I want one!" in the comments and I will PM you for color and size choice. Please feel free to share with one and all! Thanks!
FaceBook group: https://www.facebook.com/groups/fivepointsferretrefuge/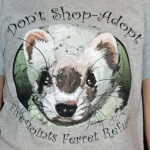 Additional contact info: http://fivepointsferretrefuge.org/contact-us/

---
The following action alert for GCFA (Greater Chicago Ferret Association) is from last year – or maybe even longer. This alert will be left here as an example – so ferret rescuers can see how an emergency alert is posted. The content and photos were taken directly from the shelter's call for help.
---
The  Greater Chicago Ferret Association  is in serious need of help.
Please take a minute to read this, and not just ooh and aww over the pictures shared.
WE NEED YOUR HELP.
This goes out to everyone.
We have 125+ ferrets right now. Including foster ferrets, that is over 150 ferrets that we need to provide medical care for, as well as feeding, cleaning, and enriching the 125+ in the shelter.
We never turn a ferret away, no matter what health issues, age, etc.  However, we have had to put a waiting list in place.  We will always take in emergencies, but we can't keep doing that with out a few things:

Adoptions.  We have a lot of ferrets of every look, age, and personality.  If you've been really thinking about it, and have the space for another furry soul in your home, hearts, and budget, now is the time.
Shelter volunteers.  We literally could not care for these souls without our daily volunteers.  They always need help, any time, any day of the week.  Duties include cage cleaning, play pen cleaning, ferret socialization, laundry, dishes, etc.
DONATIONS. We are a registered 501c3. That means any donation (monetary, food, supplies, etc) are tax deductible.  We receive no government funding.  WE SURVIVE ON PRIVATE DONATIONS AND GRANTS ALONE!
Social media.  Share these posts.  Help us network.  It only takes a few seconds, but you never know who could see this.
That all being said.  We recently look in 5 baby girls rescued from a fur farm.  THEY WILL NOT BE CLEARED FOR ADOPTION for some time yet.  They still need to be fully vetted, vaccinated, and spayed, so please do not inquire about them at this time.  These girls take a lot of energy to socialize, train, and care for.  They will also be costing us a good chunk of our vet fund.